Sorgfältig erstellte Plugins, entstanden aus eigenem Bedarf und mit dem Nutzer im Blick.
Einsatzbereit in wenigen Minuten. Entdecken Sie neue Möglichkeiten WordPress zu benutzen. Erfrischend einfach, und doch individuell anpassbar für alle Ihre Projekte.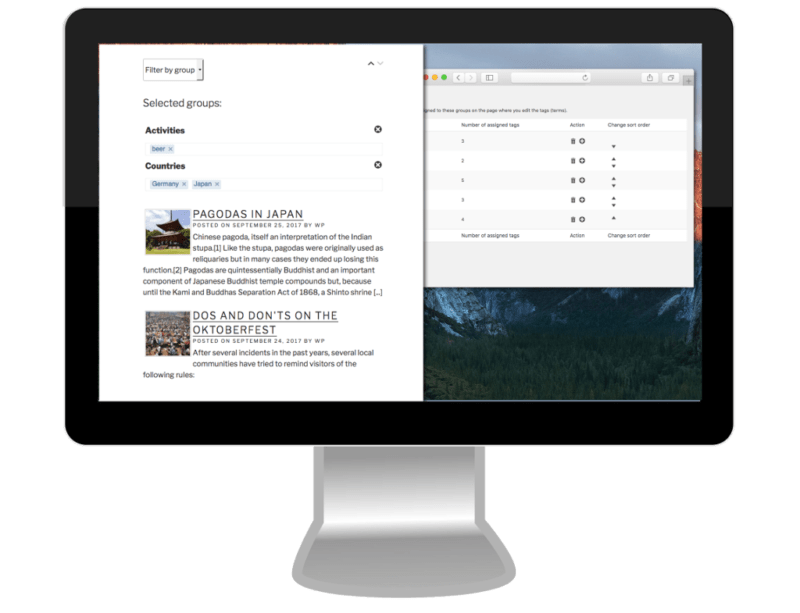 Nicht bereit für Premium?
Testen Sie ein kostenloses Plugin und machen Sie sich mit der Handhabung vertraut.
Organisieren Sie Ihre Schlagwörter in Gruppen und bringen Sie Ihre Schlagwörterwolke auf Vordermann! Zeigen Sie ihre Schlagwörter unter Tabs oder in einem Akkordeon.
Sie werden nie wieder in die Zeiten zurück wollen, als Ihre Schlagwörter noch ein einziges Chaos waren.
Bringen Sie Ihre Schlagwörter auf Hochtouren! Verschlagworten Sie Ihre Beiträge auf zwei Ebenen mit Schlagwortgruppen. Filtern Sie Ihre Beiträge auf den Seiten. Lassen Sie Ihre Besucher in Echtzeit nach Schlagwörtern und Gruppen suchen.

Und das Beste: Unsere Schlagwörter können mehr als einer Gruppe zugehören. Versuchen Sie das mal mit WordPress-Kategorien!
Gehen Sie direkt zu Ihrem ersten, letzten oder einem zufälligen Beitrag, einfach indem Sie ein paar magische Worte zu der URL Ihrer Webseiten hinzufügen. Suchen Sie Beiträge nach Autor, oder Kategorie, or sonst etwas. Oder kombinieren Sie ein Zeitfenster mit Suchparametern. Was immer Ihnen einfällt.
Lassen Sie Ihre WordPress-Webseite erstrahlen mit diesen beeindruckenden Schlagwörterwolken, die Ihre Schlagwörter in Spiralen oder Wellen zeigen.
Was Nutzer zu sagen hatten:
Viel Nettes. Und tolle Ideen.
Tag Groups Premium is a gift
For my site Tag Groups Premium is a gift as it made my site much better for my clients. It improves their search. Christoph is the best in in his support.

Ilonka van den Ancker
An amazing product, well designed & a brilliant developer!
Software doesn't make itself. The people that design, code and test is what determines a great product from a good idea but pro execution.
I bought this plugin only a few days ago as I had an idea for search feature on my website (adapnation.io) to help people sort through our growing collection of healthy meals. With little expectation of what was possible, this tool quickly fuelled an exciting new project that has the opportunity to make a big difference in how we position our business.
Steve Katasi
Ein Dankeschön an die Gemeinschaft: Meine kostenlosen Plugins

seit 2012

seit 2015
So happy to have found this
Have a site I'm redesigning with oodles of tags which were sorted manually (hardcoded in their sidebar template). This plugin is exactly what I needed. It's now easy to manage tags by group in admin. And with a little CSS TLC, will look great on the front-end! So happy to have found this. Great work!
mattrock1
Bleiben Sie auf dem Laufenden.
Lesen Sie die Neuigkeiten aus der Werkstatt.
Bis die Anzahl der deutschsprachigen Kunden steigt, sind die meisten Inhalte auf Englisch.