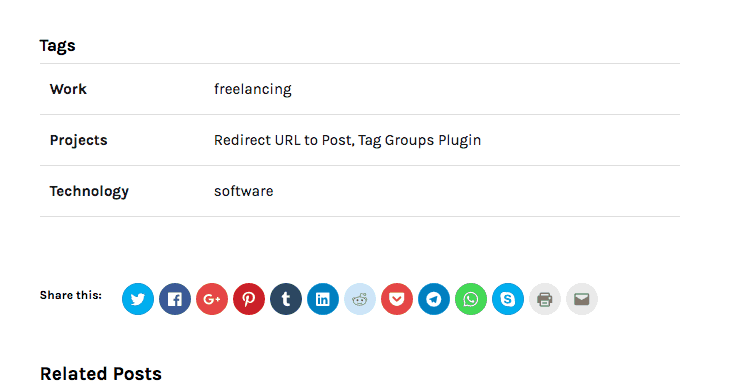 The latest version of Tag Groups Premium comes with a new feature that supplements the existing ecosystem of tags and tag groups. Even if you organize tags in groups, your theme will not be aware of it, unless you modify the theme templates.1
Starting from this version you can automatically add the groups and tags that are relevant for a particular posts to the end of the content. This feature can be enabled in the settings under "Post Tags".
There are several points that need to be mentioned:
Automatically inserting content into your posts is not exactly the same as integrating something into a theme with a comprehensive design concept. Theme designers have far more possibilities where to place and how to style the tags, they can add icons, apply logical conditions and so on.
With automatic injection, however, you can only do some basic styling. For that you will need basic CSS skills. If you are familiar with PHP, you can also use the filter tag_groups_post_terms to modify the output, like wrapping it in div or adding text or a line.
Other plugins might as well inject content into the bottom of your posts. Depending on the order, the tags will appear more towards the top or the bottom of these injected blocks.
Use "priority" in the settings to experiment with the position. A small number places the tags more to front of the queue, while a larger number pushes it towards the end.
The injected tags may not appear at all on all page types. If your theme uses a custom way how to retrieve the content or if it cleans out all HTML formatting, automatic injection is simply not possible. In that case you can only insert the tags by modifying the theme.
This update also comes with bug fixes and other improvements.
Find the complete list of changes in the changelog and download the plugin via the automatic updates in your admin backend or from Codester.
One possibility is to call TagGroups_Premium_API::call post_terms() inside the loop. As usual, it is recommended to modify only "child themes". ↩