Carefully crafted plugins, created for existing needs and designed with you in mind.
Get going within minutes. Change the way you use WordPress. Refreshingly simply, and yet customizable for all your projects.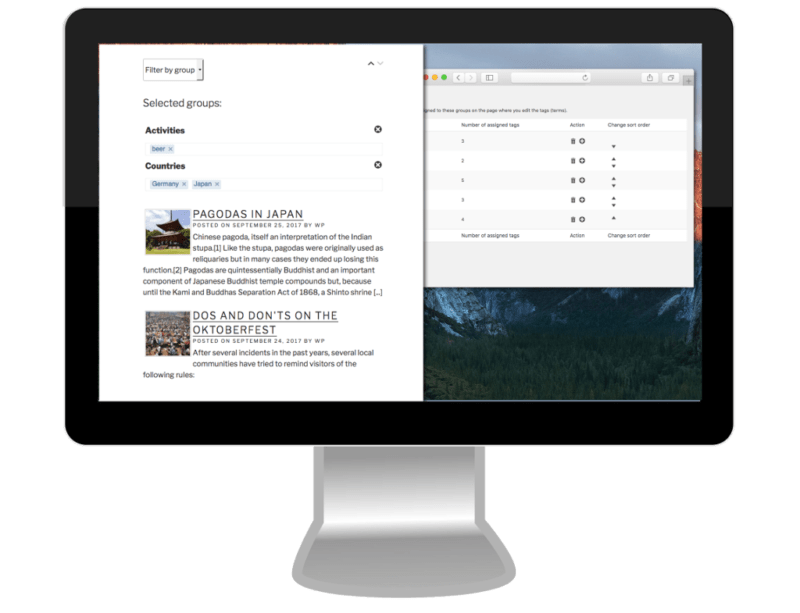 Not ready for premium?
Try a free PLUGIN and get comfortable with the look and feel.
Organize your tags in coherent groups and tidy up your tag cloud! Display your tags under tabs or in an accordion.
You will never want to go back to the times when your tags were all over the place.
Supercharge your tags! Tag your posts on two levels with tag groups. Filter your posts on the frontend. Let your visitors search in real time by tags and groups.

And the best: Our tags can have more than one group as parent. Try that with WordPress categories!

Go directly to your first, latest or a random post just by adding some magic words to your site's URL. Search posts by author, or category, or something else. Or combine a time frame with search parameters. You name it.
Make your WordPress website stand out with these gorgeous tag clouds that display your tags in spirals or waves.
What users had to say:
Nice things. And great ideas.
Tag Groups Premium is a gift
For my site Tag Groups Premium is a gift as it made my site much better for my clients. It improves their search. Christoph is the best in in his support.

Ilonka van den Ancker
Giving back to the community: our free plugins

launched in 2012

launched in 2015
So happy to have found this
Have a site I'm redesigning with oodles of tags which were sorted manually (hardcoded in their sidebar template). This plugin is exactly what I needed. It's now easy to manage tags by group in admin. And with a little CSS TLC, will look great on the front-end! So happy to have found this. Great work!
mattrock1
Stay in the loop.
We love to share what's been cooking.