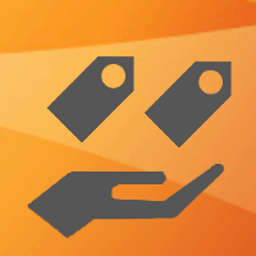 Tag Groups Premium is an extension of the free Tag Groups plugin that helps you organize your WordPress tags in groups. It adds a variety of additional features:
Searchable Tag Cloud: Filter tags by group or by name live while typing.
Dynamic Post Filter: Use your tag groups and tags for a dynamic 2-layered post filter on your pages.
Meta Box: The premium plugin brings the tag group feature to the post edit screen. First select the group and then among the tags that belong to this group.
Multiple Groups: Assign a term to several groups.
Permissions: Choose which users are allowed to create and edit tag groups: authors, editors or administrators.
Even More Tag Clouds: The plugin comes with new shortcodes for tag output in a table or a cloud that combines the tags of specified groups.
and more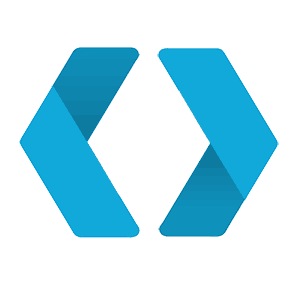 The plugin Tag Groups Premium is available at Codester.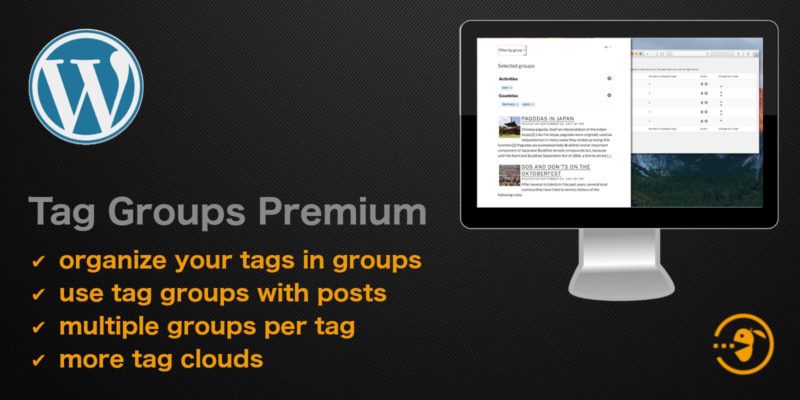 On the Front End
Shuffle Box
Finally a tag cloud that is searchable! Filter your tags by group and by name. All matching tags rearrange live in a nifty animation.

Post Tags
Automatically display your post tags segmented into groups. This is particularly useful if the same tag belongs to multiple groups.
Dynamic Post Filter
Imagine you run an blog with recipes. Your recipes are tagged with ingredients, preparation times, difficulty level, meal time etc.. Wouldn't it be nice to let your customers choose among those properties and view a list of recipies that match these criteria?
The Dynamic Post Filter lets you do exactly that: It displays a list of post that match selected tags.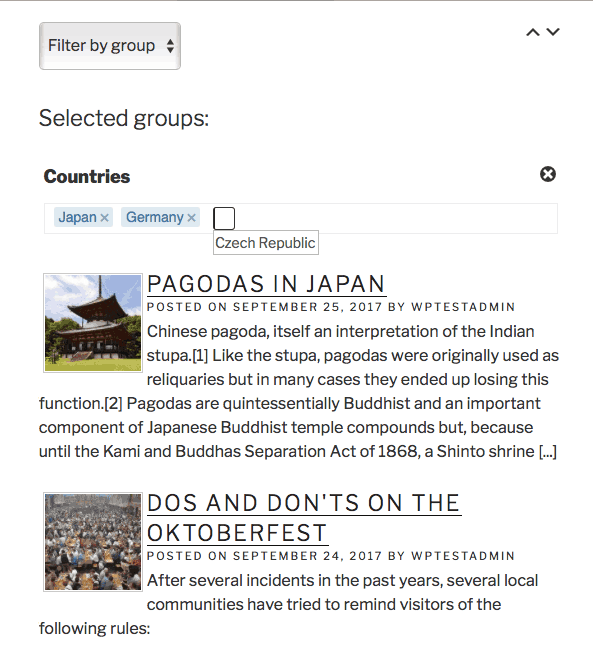 A special filter lets you search for items that match at least one of the tags from each group. Search for recipes that use milk or nuts with a preparation time of 5 minutes or 10 minutes. Or display photos of landscape or architecture or food taken in Brazil or Norway or Japan. Or filter your travel blog posts by places (Grand Canyon or Pyramids or Himalaya) and years (2004 or 2014).
On the Back End
Multiple Groups per Tag
Tag Groups Premium does not only add a second layer to your tags. You can even assign the same tag to multiple groups. Break away from the limits of default hierarchies – remember that each category can have only one parent. But what if you need to sort your tag "Mel Gibson" under both "Actors" and "Directors", or "Updates" under "Software" and "News"? Now it is possible!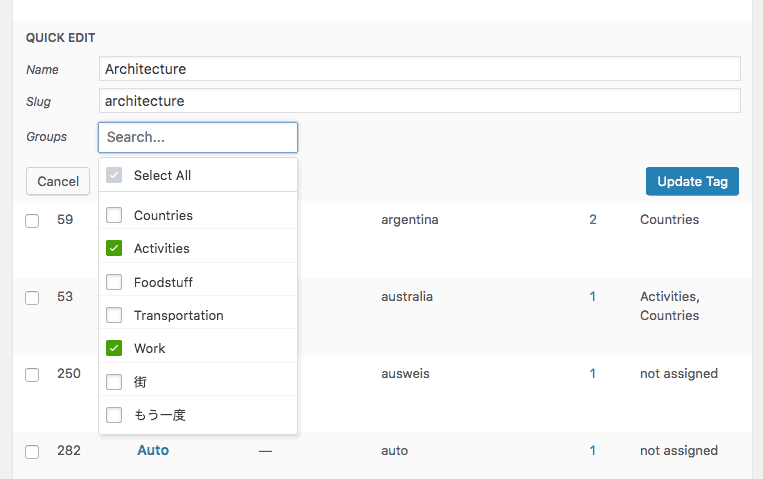 Meta Box
Replace the default box to add tags to a post with a box that lets you select tags sorted by groups. Find a tag by starting its first letters, or select them with your mouse. You can move tags to other groups by drag and drop.1
Some features may show you how powerful this tool is:
Bulk Adding of Tags: Add all tags of one group with the click of a button. If you often need to add the same set of tags, instead of adding them every time one-by-one, you just join them in a group. You can have multiple tag groups, defining sets of tags that can now be inserted in one go.
Control Your Tags: Restrict the creation of new tags, or moving tags to other groups. You can restrict it for everyone, or grant exceptions for certain user roles (administrator, editor, author). That way you can prevent that post authors mess up your tag collection.
Identify New Tags And Prevent Typos: See immediately by color if a tag is new. That way you can reduce the risk of accidentally adding a new tag by misspelling the existing tag that you actually wanted to enter.
This even works with flat custom taxonomies, like product tags.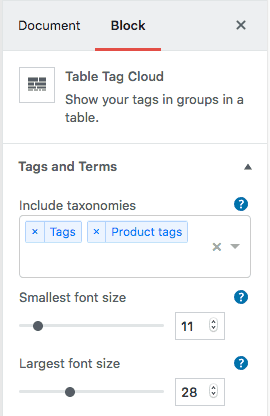 Gutenberg Blocks
Just like its free companion, Tag Groups Premium makes the best of the new Gutenberg editor: Configure your tag clouds and the Dynamic Post Filter with a sleek user interface.
No more meddling with shortcode parameters!
All the goodies from the free plugin
Naturally, the premium plugin offers all features that you get with the free plugin. Check them out here.
WPML-Compatible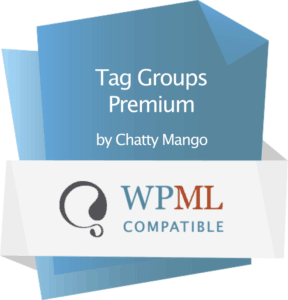 Tag Groups Premium is officially compatible with the WordPress Multilingual plugin (WPML): Group names are translatable. Simply edit them for each language.
Learn more about how to make your WordPress site multilingual here.
Testimonials
Tag Groups Premium is a gift
For my site Tag Groups Premium is a gift as it made my site much better for my clients. It improves their search. Christoph is the best in in his support.

Ilonka van den Ancker
An amazing product, well designed & a brilliant developer!
Software doesn't make itself. The people that design, code and test is what determines a great product from a good idea but pro execution.
I bought this plugin only a few days ago as I had an idea for search feature on my website (adapnation.io) to help people sort through our growing collection of healthy meals. With little expectation of what was possible, this tool quickly fuelled an exciting new project that has the opportunity to make a big difference in how we position our business.
Steve Katasi
Your Benefits
Working with a clean and organized collection of tags is so much more fun.
Discover your tag clouds as efficient search tools.
Organize your content intuitively.
Transform your tags to something useful and meaningful.
Tag Groups Free or Premium?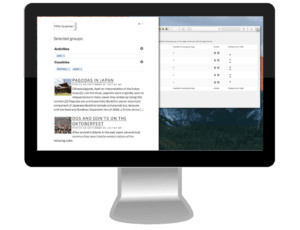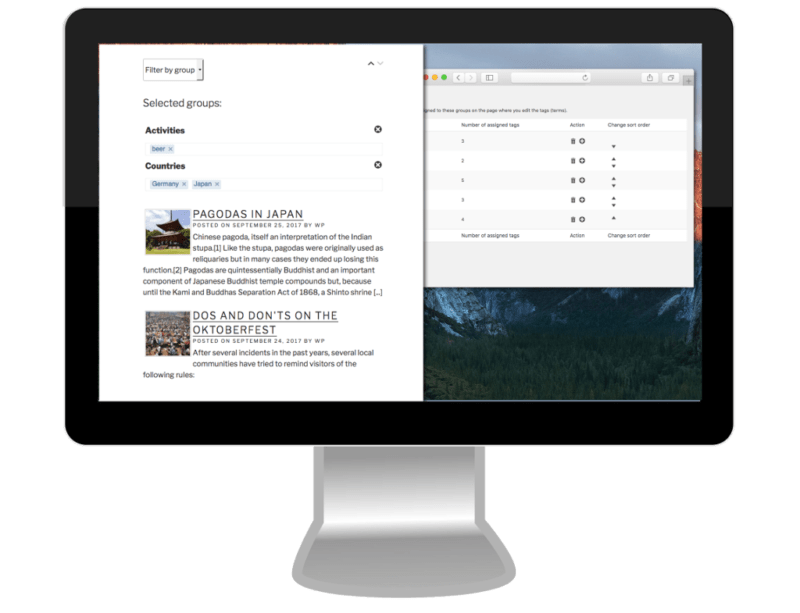 In a nutshell: While the free Tag Groups plugin gives you all you need to organize your tags in groups and to display them in tag clouds, only the premium plugin adds the full range of tools to use your tag groups with posts.
Check out the feature comparison.
Download
The plugin Tag Groups Premium is available at Codester for a one-time payment - future updates are included!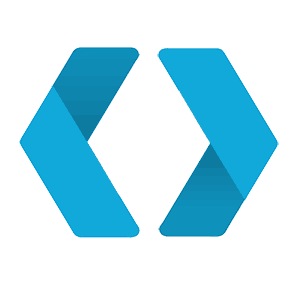 Useful Links
Earn Money With Tag Groups Premium!
Sign up for Codester's affiliate program, link to Tag Groups Premium with your own affiliate link and earn 10% of the purchases that came through your link.2
Not available on mobile or touch screens. ↩
  See the affiliate program for the terms ↩